Table of Contents
Ghorepani Poon Hill Trek can be the best 5-9 Days Trekking with the beautiful view of Annapurna Himalayan Ranges, Dhaulagiri, etc. We can explore the forests & finest scenery of the Himalayas.
Ghorepani Trekking Overview: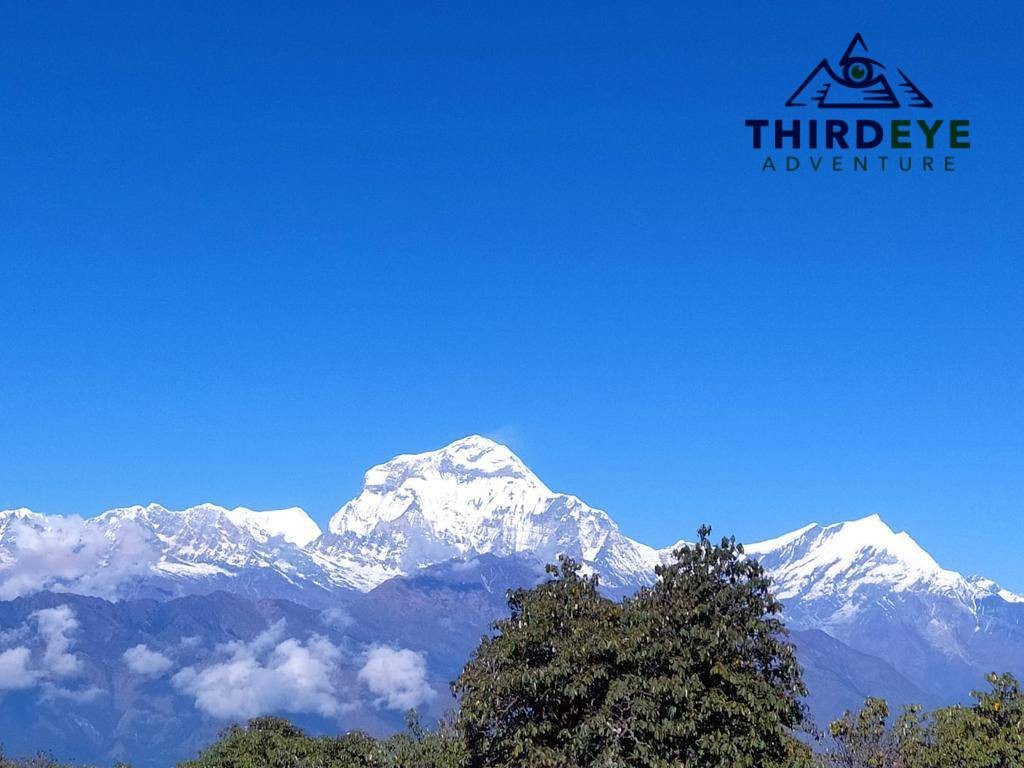 The monsoon is a seasonal wind change that frequently takes place between July and September each year, especially in the South Asian region. The downpour from this dominant wind change ranges from heavy yet short bursts of rain to continuous rainfall that can linger for a day or longer. However, as the "heart" of this blog article is about the monsoon trek in Ghorepani a hilly region of Nepal, this article will explicitly educate our readers on the monsoon trek and how and why to take this trek at this time of the year ( July-Aug ). And also includes other various relevant facts and information such as the benefits and drawbacks of trekking, the things you might experience and so on that will revolve around our main topic.
Introduction:
The Ghorepani Poon Hill Trek, also known as the Annapurna Panorama Trek, is one of Nepal's most popular and well-known traditional hiking routes. This trek is a part of the longer, more difficult "Annapurna Circuit Trek". Please note that I am not implying that this particular Ghorepani trek is extensive; rather, I am merely pointing out that it is the beginning of a longer trek. This trek is suitable for the typical visitor who cannot take so much time off, while the two of the most famous tourist destinations are the 2-week Everest Base Camp and the Annapurna Circuit treks require many weeks off from work.
The "Ghorepani Poonhill trekking" lasts between 5 and 9 days, during which we will lead you through numerous villages and forested trails with lots of breathtaking natural views and vegetation, including the "Rhododendron" flower trees (Fact: Rhododendron is the Nepalese official or national flower). This energetic hike also offers some of the finest views of the Himalayas, including Annapurna South (7,219 m), Dhaulagiri (8,167 m), Machhapuchhre (6,997 m), and Himchuli (6,434 m). A panoramic view of some of the highest peaks in the world can be seen from Poon Hill (3,210 meters), which you may reach a few days after leaving the trailhead.

Jennifer Dombrowski from the trekking agency says "I myself became one of the more than 200,000 trekkers that head to Nepal for an adventure every year. It wouldn't be Everest Base Camp or the Annapurna Circuit for me, two of the most famous and popular treks. Instead, I dipped my toe into trekking with the 4-day Ghorepani Trek in the foothills of Annapurna."
The journey begins:
It's a very refreshing option to start our journey by relishing a day in Pokhara before we begin our trek to Ghorepani. Pokhara is a haven for adventurers, the city is surrounded by lush forests and situated adjacent to Phewa Lake. And another thing to love about this place is that it is one of the rainiest places in Nepal, but when you've been in Kathmandu for a few days since you arrived, Pokhara welcomes you with the clean air which is quite a breath of fresh air. Before starting the trip the next day, stroll around the lakeside and take in Pokhara's laid-back atmosphere.
And, after a day of relaxation, the trek starts the next morning, this walk is speedier and more relaxing than other trekking places in Nepal because it can be finished in as little as a week to as many as nine days, depending on how much time you have for vacation. The stunning mountain views of the Annapurna Himalayan Ranges, which include Dhaulagiri and a number of other snowcapped mountains, are something you will experience within the short window of time to take in. Overall, when compared to other lengthy treks, it is the greatest place for both domestic and international travellers to witness a breathtaking view of the Himalayas in a short amount of time.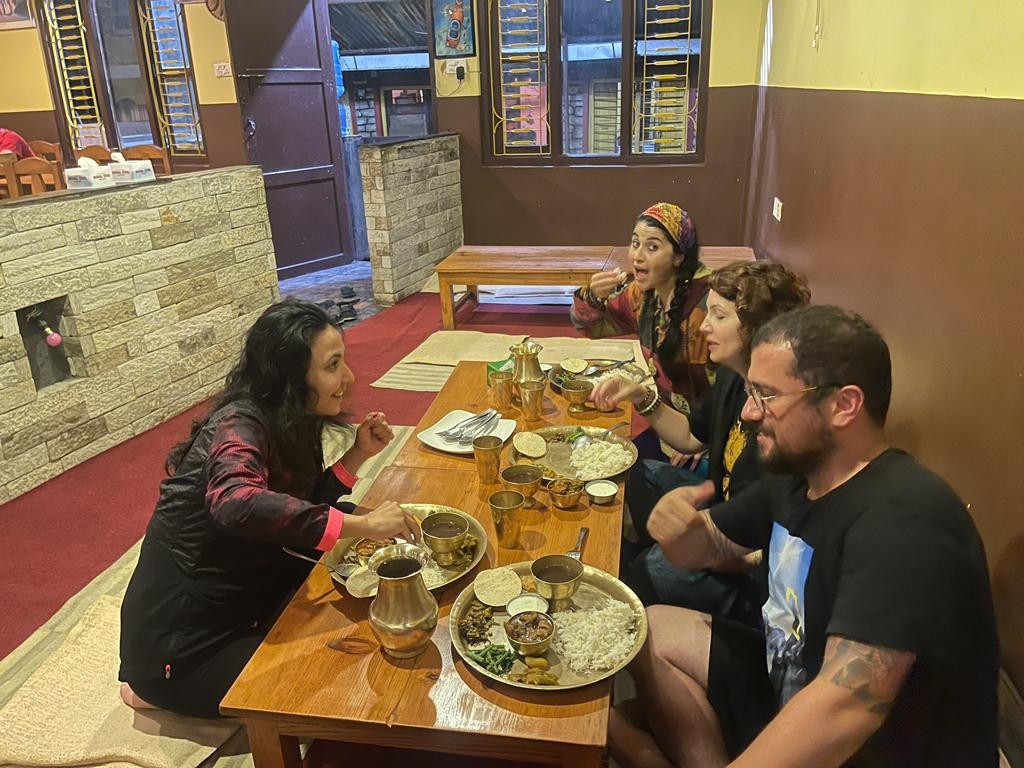 Without a doubt, the spring season, which runs from March to May, is one of the best times of year to go hiking in this area because the sky and the views are clear, the days are sunny and warm, and the mornings and evenings are cool. This is also the time of year when the vegetation is in full bloom. But the main gist of this blog is to provide you with information on the "Ghorepani Poon Hill Trek in Monsoon (July/August)" time of the year which is more adventurous compared to other seasons.
Why Poon Hill Trek in Monsoon? (July-August)
So you may be wondering why choose to take this particular monsoon for a trek in Ghorepani Poon Hill ? There is something really wonderful that trekkers love about this monsoon trek in Ghorepani Pun-hill, Annapurna Region, based on the reviews from the previously experienced trekkers who went there they really love the attention-getting view of the greener and livelier vegetation, green hills and forests which are washed clean by the pouring rain.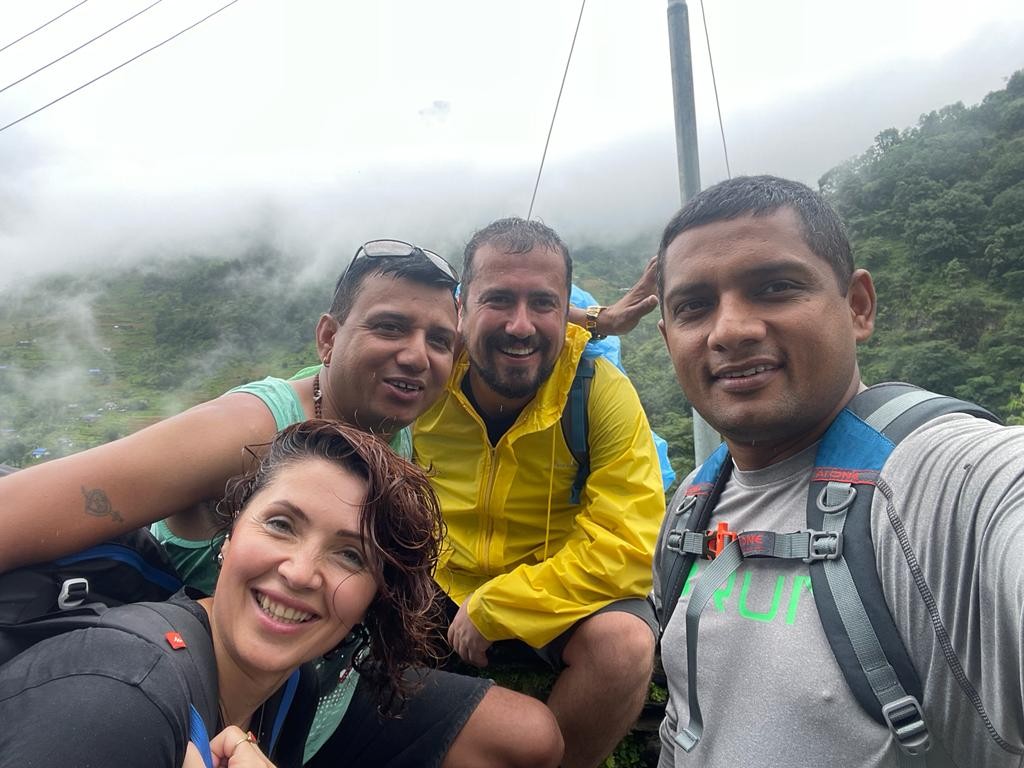 The mountains are regularly covered in rain clouds and foggy weather, nevertheless, because of the monsoon season and the low temperatures. And if we are fortunate enough and until the weather is on our side, we will get the chance to enjoy the unobstructed and priceless scene of snow-capped mountains that seem stunningly magnificent and eye-dazzling from the early sun rays, which is especially charming after a stormy night in this season. However, this just serves to highlight how priceless, calming, and gorgeous it is when the mountains finally come out through the clouds.
Trekkers who have visited the area in the past also respond that it is a unique experience to gaze out the doors and windows of the local tea houses and lodges at the magical and chilly pouring rain while sipping delicious and warm tea that has been prepared by the locals with lots of respect, love, and greetings.
Temperature and things to consider in Monsoon:
In comparison to other times of the year, the temperature is very moderate, ranging from 9 to 24 degrees Celsius, which drops with the rain. It is neither too cold nor too warm, making it ideal for tourists who prefer a moderate climate along with some rainy adventure, which has its own value and special place in the hearts of trekkers who experienced this trek in Nepal during this particular time of the year (July-August).
How much does it rain in Poon Hill?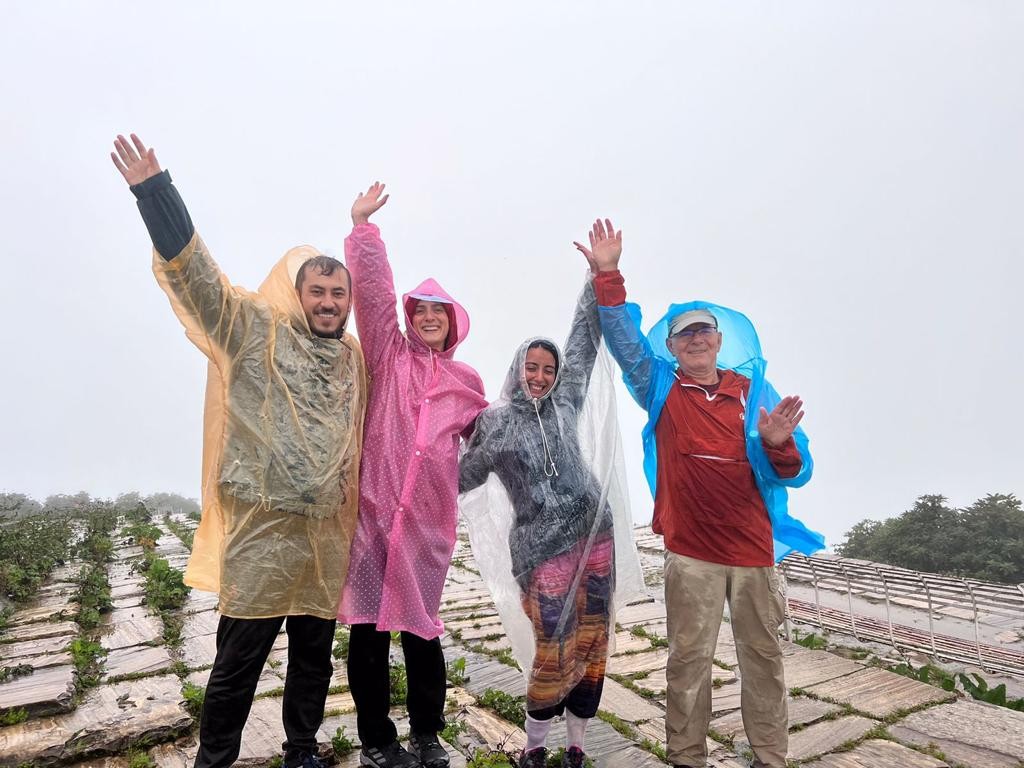 It is quite improbable that there will ever be a day without rain, and most frequently, it rains every day but just for a short while. Monsoon does not necessarily indicate persistent, heavy rain unless and until we are incredibly unlucky. And if and until it is possible, we will organize your journey taking the weather into account with the help of weather forecasts and our experienced and seasoned guide's suggestions and guidance.
What other things should you prepare for Trek?
The most frequent factor to take into account or be ready for is slick terrain. For this, you need a solid pair of trekking shoes that are slip-resistant and appropriate for stone-paved to mildly muddy terrain but the slippery trails do not necessarily indicate that the trek is dangerous and you should be panicked about it. Keeping such a thing in mind, we are sure that the journey is safe enough for both inexperienced and experienced hikers, not to mention that we have our very experienced guide who will lead you through every challenge and step along the way.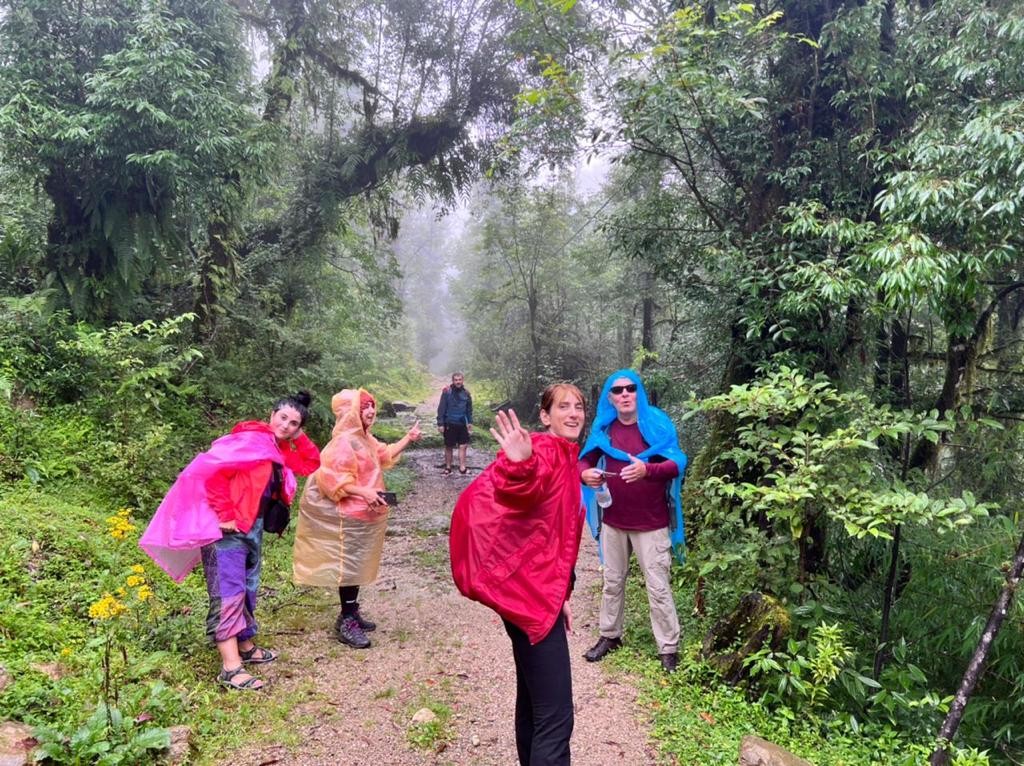 Apart from the steep and slippery trails, you should also be ready for leeches along the trip in addition to the rocky, slippery terrain. While these leeches do not transmit any diseases, they can make you scratch or itch excessively around the bite wound, which could lead to a very mild infection. Therefore, having salt on hand can come in quite handy if you need to get them out of your shoes or clothing. However, it is advisable to avoid using the salt while the sponge is still in contact with your skin and biting because it can vomit into the wound and cause unnecessary health issues.
Brief Overview of Itinerary for Ghorepani Trip
We have provided here a brief overview of the itinerary for this particular trek, providing the description of the planned route or journey for each day of the trek, in this case for the nine days of travel. We hope this information will allow our possible customers to maximise the time they have, ensuring main details on activities, stops between milestones or sequential places to visit and accommodations.
Day 01: Welcome to Kathmandu, Nepal, take a rest for a day in a comfortable inn or hotel that we will take care of, including a quality lodging and breakfast service. The next day, first thing early in the morning, we set out on our journey to Pokhara.
Day 02: We drive to our first destination Pokhara which is the most beautiful city in our country by our deluxe transportation bus ride which takes about 6-7 hours, and upon arriving in Pokhara we spend our remaining day visiting the famous and delightful "Phewa-taal" which is one of the many freshwater lakes in Pokhara where you can experience boating with an experienced boatman and also if we have time visiting some lake-side pubs with live music and dinner is also an option before calling it a day and having a restful night for the next day's adventure.
Day 03: We take a private vehicle till Birethati, where our journey starts for trekking, once we check in at the ACAP checkpoint we start walking to Ulleri our first trekking camp. The trail goes through off-road following Bhurundikhla by passing a beautiful village with waterfalls. We take lunch at Hile a place for some rest and start walking to Tikhedhunga. From Tikhedhunga we start to walk all the way steeply up to Ulleri which is 3200 stone steps.
Day 04: After breakfast in Ulleri we start trek to Ghorepani for about 6 hours. The trail leads through cultivated fields with villages and the rest of the trail goes through inside (blooms in March, and April) rhododendron and Oak forest. As it is monsoon season, you will encounter some streams, and leeches on the way but fun to walk.
Day 05: Early morning hike to Poon Hill (3210m) for an amazing sunrise view about an hour of walking when the weather is clear. The view of the shining mountains is good for photography, after about one hour of exiting sunrise we will back down to the lodge at Ghorepani and trek to Ghandruk after breakfast. In the beginning parts of the trek the trail steep uphill to the ridge through the stone steps till Deurali.
It is the almost parallel height of Poonhill. After passing through the rhododendron forest, we will have end short easy walk to the ridge and steep down to the river to cross the bridge and small up till Tadapani. We will gradually down to Ghandruk. Ghandruk is a beautiful village occupied by ethnic cast Gurung where you could explore its rich culture as well as a museum. You can see the Annapurna ranges in front of the village including Machhapuchhre (Fishtail).
Day 06: Trek from Ghandruk to Syauli bazaar all the way down, it takes 3 hours then drive to Pokhara 1.5 hours. Walk all the way down through steps till Syauli bazaar then catch a vehicle to board Pokhara. In Pokhara, you can enjoy roaming around and sightseeing.
Day 07: We drive back to Kathmandu the same way by our deluxe transportation bus ride which takes about 6-7 hours. Upon arrival in Kathmandu, you can roam around in Thamel by shopping for souvenirs.
Day 08: Fly back to home country. We will put you Khada (a kind of cloth which use to wear on your neck). Wearing Khada means good luck and protection. And drop you at the airport. See you next time.
Book For Ghorepani Poonhill Monsoon Trek (Annapurna Panorama View Trek ) – 6 Days Price: 530USD 477 USD (Special Offer)