Table of Contents
'an adventure around hidden pockets of massif Annapurna Himalaya range'
Mardi Himal Base Camp, an adventure on far-flung corners within hidden areas of the great Annapurna Himalaya Mountain range. A great country walks following the Shepard's and cattle herders' path on high ridges of southern Annapurna Himalaya. A perfect trek for travelers in search of new and fresh Himalayan destinations in a short duration of time frame.
Mardi Himal Trek is one of the freshly introduced trekking areas, located within Mt. Annapurna massif group of peaks. The Mardi Himal is almost attached with the towering south face of majestic Machhapuchare Himal, the famous Fish-Tail peak. One of the few mountains in Nepal Himalaya that has remained virgin and unclimbed to this day. In the early days, Mardi Himal was un-noticed due to its small size at 5,587 m and 18, 325 feet high. Where western mountaineers first came to know by the photographs of Basil Goodfellow, taken in 1953.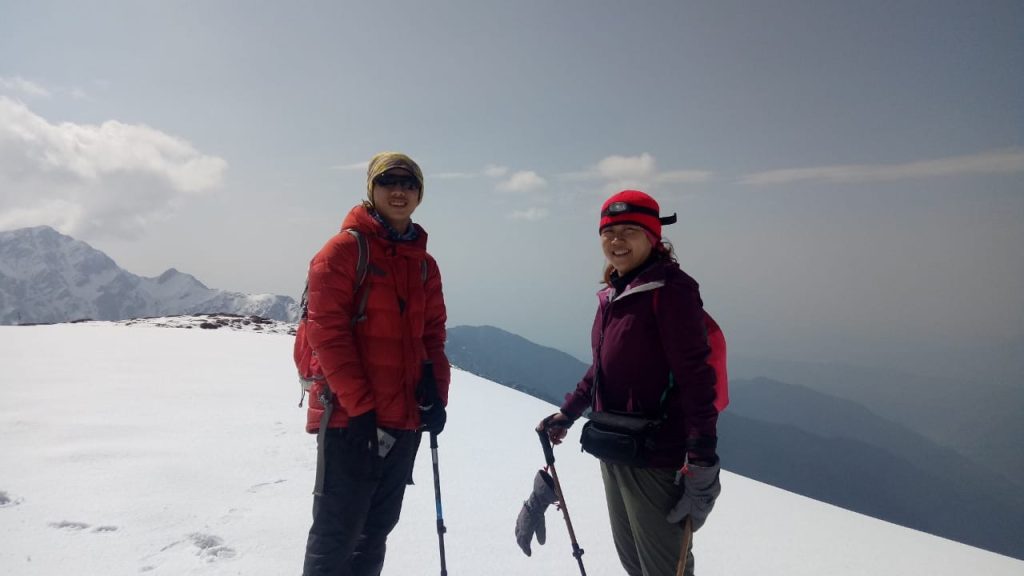 Which came to know later that Mardi Himal is a separate peak, close to Machhapuchare Himal southern ridge. Mardi Himal at present listed as trekking peaks of Nepal. The first ascent to the summit by British explorer and mountaineers late Col. Jimmy Roberts with two Nepalese Sherpa in the 1960s.
Mardi Himal, located south-east side from the actual Annapurna Sanctuary which forms an extension south-west ridge of Mt. Machhapuchare. Stand as a distinct and separate peak, clearly seen towards north from Pokhara at an aerial distance of 25 k.m and 15 miles. Mardi Himal is the lowest and least climbed trekking peak of Nepal, where few groups of trekkers seldom venture. Since last decades gaining much popularity, due to its remoteness and its scenic location and close to stunning Mt. Machhapuchare.
An enjoyable walk to the foot of Mardi Himal base camp at 4, 495 m / 14, 747 feet high. Where route leads to tranquil surroundings on quite steep-sided and heavily wooded with bamboo and rhododendron forest. Walk heads beyond dense woodland around high alpine pastures, which provides good grazing and a habitat for undisturbed wildlife.
Mardi Himal Base Camp trekking is considered the best of all Annapurna Himalaya Region Trekking in a short duration of time. Where all types of travelers and age groups can join on these wonderful high country walks. Without any stress of catching high altitude sickness, elevation gains gradually to reach Mardi Himal base camp. The highest point of the adventure, amidst an exciting panorama of snow-peaks with beautiful undulating green hills.
Apart from high scenic walks along with stunning views of peaks, where walks take you into the enchanting forest. Lined with tall rhododendron, magnolia, oaks, and pine trees that slowly disappear as you reach high above the tree lines.
Truly an adventure of great thrill to experience once in your lifetime, a trek of great contrast and bio-diversity. As walk leads from low sub-tropical farm areas to cooler alpine high hills, and then towards artic temperature zone.
Where landscapes, climate, and vegetation change on daily walks as views of snow-mountain follow you throughout the trek.
Mardi Himal rarely visited area provides an enjoyable and tough trek for some days, on off the beaten tracks. Isolated from the main villages as route leads to complete mountain wilderness with few temporary small settlements and simple lodges.
Various Routes to Mardi Himal Base Camp
Depending upon the standard itinerary as per your holiday duration for Mardi Himal Trek, with few options to choose from. Alternative routes as per one interest, the main straight-forward is taking a short drive from Pokhara to Dhampus village.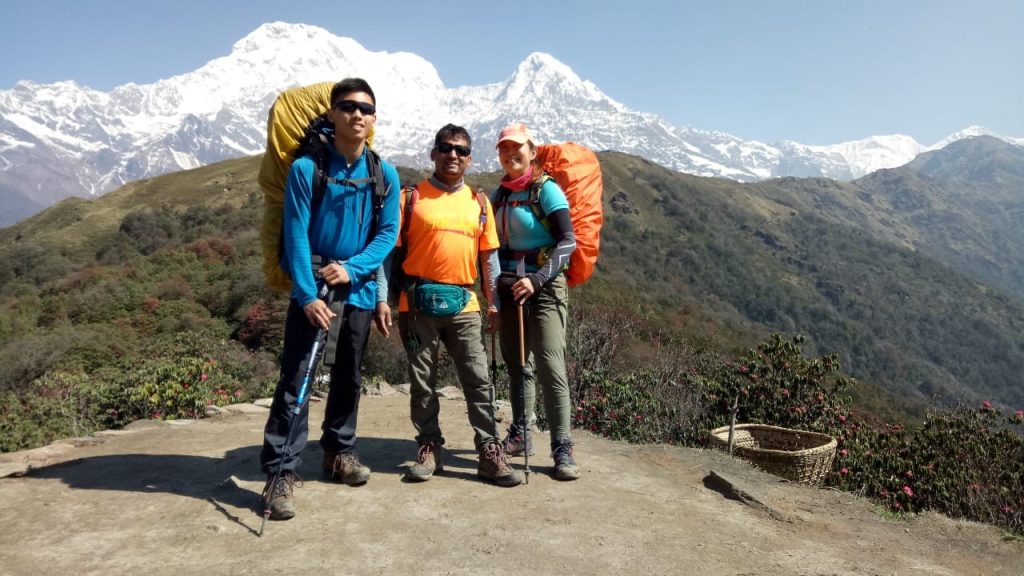 One can drive further to Kande, past Naudanda village, either from Dhampus or Kande, climb leads towards high cooler ridge. Where walk leads into forest path to reach at the nice scenic village of Potana, which is at 1,900 m high.
Along the walk facing tremendous views of Annapurna, Manaslu Himalaya range of peaks includes stunning Machhapuchare Himal and Mardi Himal.
The Climb continues reaching a high spot and a small village called Pritam Deurali. Located on a junction of main popular trails to other famous destinations, Landruk, Ghandruk, Chomrong, and Ghorepani. From here our route diverts from the main trail heading straight north to Mardi Himal base camp.
The walk takes you towards few overnight stops in a simple guest-house and lodges with the last final settlement at High Camp. Staying extra overnights for a day hike to Mardi Base Camp, carrying a simple pack lunch to enjoy a small picnic.
After completing the main highlight on reaching Mardi Himal base camp return journey downhill to low warm farm village at Sidang. Where next morning short exciting drive reach you back in Pokhara.
Short Outline Itinerary of the normal straightforward route to Mardi Himal
Day 01: From Pokhara drive to Dhampus 1,400 m or Kande 1,520 m, walk to Potana 1,940 m via Australian Camp 2,050 m if starting from Kande village both ways will take 05 hours with a short drive.
Day 02: Trek to Kokar Forest camp 2,520 m via Deurali 2,110 m- 05 hrs.
Day 03: Trek to Badal Danda / Low Camp 2,970 m – 05 hrs.
Day 04: Trek to High Camp 3,700 m – 05 hrs.
Day 05: At High Camp for a hike to Mardi Himal base camp above 4,495 m.
Day 06: Trek to Low Camp – 05 hrs.
Day 07: Trek to Siding village 1,230 m – 06 hours.
Day 08: Drive to Pokhara via Mardipul village – 03 hrs.
The other route to Mardi Himal Base Camp, an adventure into the pure wilderness where camping gear is required. Including food to carry for the whole trip, as you will be far and off from the main villages. Where lodges for overnight stays do not exist, throughout the trek in tented camping supported by a cook, kitchen hands, and porters. Ferry all the camping equipment including foods from the start to the end of the trek.
A short drive takes you beyond the Pokhara valley rim, and follow the Mardi River upstream, and then climb starts. As the walk lead through several farm villages to reach a nice Gurung village of Ghachok, and to Dhiprung. For first overnight in tented camp around high hills of Annapurna Himalaya. Next, an early morning walk takes you higher to reach a scenic hilltop at Odane, enjoy close views of
Mt. Machhapuchare. Includes an array of giant peaks from Annapurna South, A-II to A-IV as walk heads higher to Simre Kharka. Where overnight camp is set on this remote and isolated spot, around cattle herder summer grazing area.
The adventure continues walking on a narrow path following a ridge-line to reach a wide-open grassy field at Khorchon. The last place of local villager's animal grazing field, which is quite high at above 3, 500 m. The camp offers fantastic views of Mardi Himal, located beneath giant peaks of Machhapuchare with surrounding dramatic scenic landscapes. From here towards Mardi Base Camp, the final highlight of the adventure at 4,100 m high. Which is quite lower than other base camps, the area is raw and wild. Where very few trekkers and climbers rarely visit this side of Mardi base camp, overnight camp on the highest spot.
Herewith time to explore the pristine wilderness untouched and undisturbed by the main flow of trekkers and adventurers.
journey on the same scenic trail to reach low warm farm village of Kumai a long downhill. Where drive takes you back to Pokhara, with an option to stay in the comfort of Home-Stay in a lovely Lwang village.
Best Season for Mardi Himal Base Camp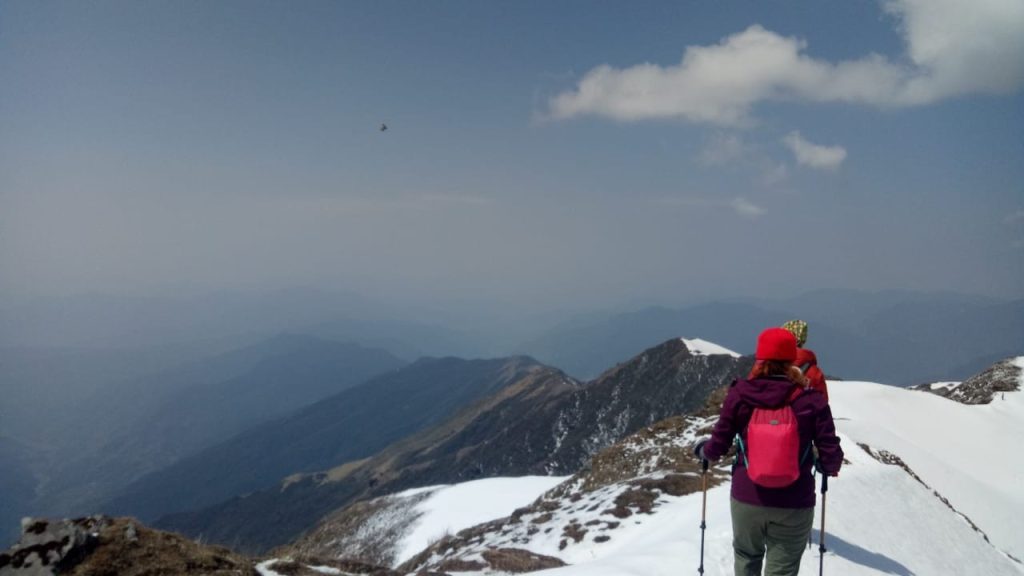 The spring season from March to May is the most popular and preferable time for treks all around Nepal Himalaya. As well as a wonderful trek to Mardi Himal Base Camp, where days are longer with sunshine. A great time for pleasant walks and scenic views of mountains, where wild-flowers are in seasonal bloom adds more beauty and charm on the route to Mardi Himal Base Camp. From late afternoon till morning time can be cold, chances of light rain and snow on higher altitude above 2,500 m high sometimes.
The next best time is autumn from mid-September to November, where days are crystal clear with blue sky. An enjoyable season but much cold in the morning and late afternoon till night time, days are shorter with sun-light. Chances of snow around higher altitude, but the clear bright starry night sky.
Conclusion
Mardi Himal Base Camp trek, one of few raw, virgin trekking regions around Annapurna Himalaya as well in the whole Nepal high Himalaya. Mardi Himal area is also known as the 'Other Sanctuary' due to its close distance from the main Annapurna Sanctuary. A great marvelous country walks on both scenic routes leads to a tranquil environment facing an awesome panorama of high snow-capped peaks.
A great adventure destination for all types of trekkers and age-group, one of shortest and simply the best treks. Where one can enjoy a week-long wonderful trek in the harmony of complete mountain wilderness and off the beaten tracks.