Table of Contents
Country of unique diversity steeped with ancient culture and scenic views
Best of Nepal Tour covers all beautiful places from ancient monuments to cultural and historical sites of great fascination. The country is enriched with glorious history with two old religions The Hinduism and Buddhism that blends in perfect harmony. Visitors in Nepal can enjoy a wide range of exotic holiday destinations from heritage sites, scenic mountain views to exciting jungle safari.
The Best of Nepal Tour starts from the capital Kathmandu itself the city steeped with famous landmarks. Most world heritage sites, located within Kathmandu valley cities of Patan and Bhaktapur, an impressive tours of cultural and historical interest. A metropolitan city but still retains its age-old splendid cultural heritage and colorful custom, as it were for hundreds of centuries.
A wonderful experience that delights every visitor from the beginning to the end on our Best of Nepal Tour. A fabulous trip exploring marvelous places that country has to offer from few days to a week or more.
Nepal with an area of 147,181 sq. km, is one of the world's richest countries in terms of unique bio-diversity. Where one can experience a dramatic change of altitude, climate, vegetation, and cultures as well landscapes in a short period.
An amazing country to visit, where the elevation ranges from low 60 m to the highest point on earth. The famous landmark of Nepal Mt. Everest at 8, 848, 86 m / 29, 032 feet high. As well the birthplace of Lord Buddha known as 'Light of Asia' with much more, where one can explore. The Best of Nepal Tour offers various interesting places as per your choice and holiday duration.
Where all tour begins from Kathmandu Valley, starts from morning till late afternoon, a short drive to reach the heart of the city. The tour guide will take you around great places of interest starting with Kathmandu Durbar Square.
Guided Tour around Kathmandu places of Historical, Cultural, and Religious interests
Kathmandu Durbar Square:
Located in the heart of Kathmandu city, an interesting square with an old palace and a beautiful courtyard. Tour of Living Goddess residence (Kumari Ghar), the old monuments are the greatest architectural wonders of the Malla dynasty.
The Durbar Square teems with colorful life visit the famous Kasthamandap.
A rest house and a temple built with the wood of a single tree, the name of Kathmandu derived from. This old complex houses a museum that carries the mementos of different Shah Kings, who ruled the country till last few decades.
Swambhunath and Pashupatinath Temple:

From here tour leads you to Nepal's famous landmark of Swambhunath, a Buddhist stupa of more than 2,500 years old history. This important site offers views of Kathmandu city and the valley, tour extends to visit another famous Hindu temple of Pashupatinath. A sacred place for entire Hindu followers, as well the nerve of pilgrimage on Shiva-Ratri, birth anniversary of Lord Shiva.
Tour extends to famous Bouddhanath Stupa:
One of the largest Buddhist shrines of South Asia, the ancient colossal stupa built in the 6th century A.D. by King Man Deb. A beautiful monument with series of three terraces, looking from high above it takes a relevant shape of a lotus flower.
A very holy object for all Buddhists, this large stupa is surrounded by a circular market, which forms a part of Tibet town. Hence it is also known as Little Tibet.
Where four pairs of the Buddha's eyes give a vivid flash to the four cardinal directions.
These are the famous and worth visiting sites on the Best of Nepal Tour, most of the monuments listed in UNESCO World Heritage Sites.
Kathmandu city and around the outskirt of the city provides many interesting places, where one can extend the tour, like to Buddhanilkantha. A Hindu temple dedicated to Lord Vishnu or Narayan. The locality is also known as Narayanthan. Lord Vishnu lies on a bed of serpents amidst a small pool.
Another interesting extension tour of Dakshinkali Temple and Chobar Gorge, where can take a car or biking. Dakshinkali Temple, a woodland shrine, is dedicated to Lord Shiva's bloodthirsty consort, Kali. Worshippers of Goddess Kali believes her wrath can only be mollified through blood sacrifice, here witness animals being sacrificed at the shrine of the goddess.
Chobar Gorge, situated at the southern rim of the valley floor, the legend about the birth of Kathmandu Valley. Where a Buddhist deity Manjushree cut the hill at Chobar, in half with a mighty sword and drained the water of a lake, and opening the fertile vale for habitation. Where historical Pharping village is located, this lovely area is situated southwest of Kathmandu valley rim, an ancient town. This is a place where a Great Guru Padmasambava got enlightened at Asura Cave,
Gorakhanath, and Shes-Narayan caves at Pharping, some of the most visited pilgrimage places for Buddhists.
Kathmandu valley famous adjoining cities of Patan / Lalitpur and Bhaktapur:
Best of Nepal Tour includes adjoining cites of Kathmandu valley visit of Patan, also known as Lalitpur. Means city of beautiful arts and craftsmanship here enjoy a tour of its magnificent Durbar Square, the palace courtyard.

Besides, magnificent old palace courtyard, the city is full of Buddhist monuments and Hindu temples, with a fine bronze gateway. Includes guardian deities of intricate carvings the area renowned for its craftsmen and metal workers.
Hence it is known as the city of artists, the city built during the reign of Vira Deva in 299 A.D. Enjoy the tour amidst busy and colorful local market, a great way to catch the local immense culture.
Best of Nepal Tour takes you to another marvelous city of Bhaktapur where one can feel and experience the medieval period era. Once the capital of Nepal during the great Malla Kingdom. F from the 12th to the 15th century.
A charming city of old houses, lined with stone-paved narrow lanes in the close backdrop of pagoda roofed temples. One of the best cities of Nepal not to be missed, a living museum with its beautiful old palace courtyard.
Places of great interest around Bhaktapur Durbar Square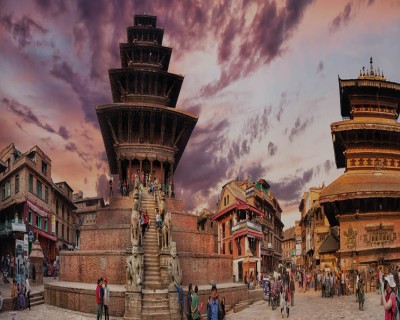 Bhaktapur Nytapola Temple, a great masterpiece work of craftsmanship a five-storied pagoda, a tour of the golden gate, and a palace of 55 windows. Many great wonderful places around Bhaktapur to enjoy a full day, where one can extend a tour of the ancient Changunararyan Temple. One of the oldest temples of Nepal, and then continue onwards to the hill town of Nagarkot. Famous for sunrise and sunset views over the Himalayan Mountain range, staying in the nice comfort of lovely hotels and resorts.
Other exciting and scenic and cultural places with Kathmandu suburb:
The main popular sightseeing tour is around Kathmandu, Patan, and Bhaktapur cities, there are wonder areas just beyond the Kathmandu valley rim.
Where one can enjoy fresh mountain air in the harmony of pristine surroundings with spectacular views of Himalayan peaks. Along with stunning sunrise and sunset views from Nagarkot and Dhulikhel hill town, famous for an excellent panorama of mountain views. Tour of Namobuddha a sacred Buddhist site is located in tranquil surroundings an interesting and holy place.
Best of Nepal Tour beyond Kathmandu
The next impressive tour takes you beyond Kathmandu city, an exciting drive through rural towns and farm villages. One of the best ways to witness an in-depth country's age-old traditions and cultures.
Tour of Gorkha:
To reach the historical town of Gorkha, an interesting drive leads to Nepal Mid-West hills for few hours. Enjoy a visit to the old Shah Dynasty Fort palace perched on top of the main town of Gorkha. From this palace in the early 17th Century, King Prithivi Narayan Shah began his conquest of Nepal's smaller kingdoms. Unified the country into one single nation, then visit other places of great interest around Gorkha.
Bandipur the heritage Home-Stay town:
From Gorkha few hours to the old town of Bandipur, the first to introduce a role model program known as Home-Stay. Stands above a hill facing glorious views of Annapurna, Manaslu Himalayas with majestic Mt. Machhapuchare the famous Fish-Tail peak. A pleasant lovely town of heritage background, here visitors can stay in a cottage made as Home-Stay. Managed by the local communities sharing the food as the locals entertain guests with various folk cultural programs.
Scenic and beautiful Pokhara city:

Pokhara city, an exciting drive of 6 hours from Kathmandu, or take a swift short flight of half-hour to Pokhara. A jewel of a city, blessed with amazing natural beauty stands on a verdant valley surrounded by tiers of green hills.
Facing grandeur views of massive Annapurna Himalaya that reflects on its serene Phewa and Begnas Lakes.
Pokhara one of the most unique and picturesque in the whole Himalayas, and probably in this world. A place of low-subtropical climate and yet close to high snow mountains of Annapurna Himalaya, a renowned tourist spot.
Around Pokhara tour takes you around its beautiful natural wonders, enjoy glorious sunrise from the hill of Sarankot. Overlooking super panorama of Dhaulagiri, Annapurna, and Manaslu with towering Machhapuchare that dominates the skyline of Pokhara valley. A popular spot for adventure sports likewise Paragliding, Zip Flyer as well as scenic views of Pokhara city.
Pokhara is also the getaway to various adventure destinations around Annapurna Himalaya and beyond. Tour takes you to witness cascading beautiful Devi's waterfalls and interesting deep caves. Rest of the day relax and enjoy the surrounding superb views of snow-capped peaks.
A great place for all types of adventure, one can enjoy Ultra-Light flights or boating at Phewa or Begnas Lakes.
Southern Nepal places of Interests
Best of Nepal Tour extends towards Nepal Far South West around warm low-land known as Terai belt. Here travelers can visit historical and religious sites, as well enjoy a short adventure with Jungle Safari.
Lumbini:
An interesting long drive or one can take a short swift scenic flight to Lumbini.
The nerve for all Buddhism religion, the birthplace of Lord Buddha as well a place of historical importance. Maya Devi, mother gave birth to young Siddhartha Gautama in May year 642 B.C. The site was re-discovered by German archeologist 1895, identified an inscription and records made by the Chinese pilgrim Fa Xian, as a religiously acclaimed site.
The birth site of Lord Buddha, listed in world heritage sites, an exciting place to explore historical and religions of great interest.
Places of Interest Around Lumbini
Asoka Pillar:
The Indian Emperor Asoka (249 BC) visited Lumbini and placed a Pillar on the spot of Buddha's birth site. The inscription of the pillar (the oldest in Nepal) declares that Asoka granted Lumbini tax-free status in honor of Buddha's birth.
Maya Devi Temple:
A temple dedicated to Maya Devi, Buddha's mother. Parts of the temple are over 2,000 years old. It is believed that the temple was located where the Buddha was born. Excavation point to the fact that there are remains of a Gupta period (4th to 6th century). A pond next to the temple and just south of the Asoka pillar, where Maya Devi is said to have bathed in, before the delivery of the Buddha. There are some ruined foundations of stupas and buildings dating from the 2nd century to the 9th Century.
Buddhist Monasteries:
Around the site heavily restored brick foundations of stupas and buildings, which date from the second century BC to the 9th Century AD.
There are two modern monasteries. The Tibetan Dharma Swami Maharaja Buddha Vihar. Sri Lankan Pilgrims Rest House. The Theravada Lumbini Buddha Vihar was built by the Nepal government. It has some Tibetan-style paintings, Newar woodwork, and Buddhist images.
Jungle and Wild-Life Safari at Chitwan National Park:
Best of Nepal Tour includes some excitement and thrills where one can enjoy a wild-life safari, riding on an elephant. On the lookout for endangered mammals and exotic birdlife in Chitwan, a great change after a tour of historical and religious places.
Enjoy various jungle activities staying few days in the harmony of enchanting jungle surroundings.
Jungle Safari activities:
Bird Watch Tour, Machan (Observation Tower) Tour, Jungle / Nature walks, Elephant and Jeep safari, elephant briefing, and bathing elephants includes folk entertainment programs performed by Tharu, the indigenous tribe of Terai belt.
On safari one might spot the rare Royal Bengal Tiger, One Horned Rhinoceros, deer, leopard. Two types of crocodiles Marsh Mugger and freshwater Gangetic Gharial include different animals with more than 900 species of birdlife.

Best of Nepal Tour, where interested visitors can extend towards Nepal Far West to Eastern scenic places. Like Ilam town, famous for tea and its vast Tea-Garden and other great places to enjoy your memorable stay in Nepal.
Best Time for Best of Nepal Tour
Nepal can be visited all around the year, except for monsoon wet times from mid-June to August months. The most preferable season is spring from March to May, where days are clear and fine with much longer sun shines. Cold in the morning and nighttime can expect light rain sometimes.
The other next good times is autumn/fall from September to November, days are fine with crystal clear blue sky. Where one can enjoy views of high snow mountains as well for tour, morning and night time with cold temperatures.
The winter season from December to February is also the best time for a tour around Nepal, but days are shorter due to sun-light hours. Much cold morning and late afternoon till night time.