Nepal, a country situated in the heart of the Himalayas, provides an exceptional trekking paradise for adventurers of all physical fitness, even those who are just beginning out. If you're a beginner to trekking and feeling worried about beginning your journey, don't worry. It doesn't matter if you're new to trekking or have done it before, Nepal is the best place to go. Nepal attracts visitors from all over the world with its breathtaking mountains, beautiful landscapes, rich cultural diversity, with hospitality.
Nepal provides a lot of attractions for trekking lovers, including snowy peaks and lush green forests. Nepal offers a lot of opportunities for everyone including beginner to experienced trekkers. Even if you're a beginner, there are several trekking routes you can try and complete without much problem. The people in the villages are really nice when you go trekking. They are friendly and welcoming, and they will make you feel comfortable like you're at home. You will have a chance to learn about different cultures and traditions in different villages.
The perfect time to trek in Nepal depends upon several factors, including where you are planning to go for the trek and it also depends upon your personal preference. As Nepal has a unique geography, it experiences different weather, so it is most recommended to choose the right season for hiking in Nepal, especially if you are a beginner. These two seasons are considered as the favorable season to trek in Nepal:
Autumn:
Autumn(September to November) is considered the best time for trekking in Nepal. The weather in the Autumn season is generally stable, and the skies are clear, which provides stunning mountain views. During the day the temperature is moderate, which makes you comfortable for hiking, and the nights can get chilly at higher altitudes. The trekking route is good and not slippery, and there is lush greenery.
Spring
Spring is another excellent time for trekking in Nepal. During spring, the weather is moderate, and the rhododendron forests are in full bloom, along with vibrant colors in the environment. Days are longer, which allows trekkers for more trekking hours, and the temperatures are pleasant at lower elevations. Spring is also a great time for cultural experiences as it includes many Nepalese festivals.
The Best Region for Trekking in Nepal
Nepal offers the best trekking regions, which include different and new experiences. Every region provides the next level of excitement, natural beauty, and cultural immersion. Although every region has its own unique features, here are some of the most famous and best regions for trekking in Nepal:
Everest Region
The Everest region is the home of the highest peaks in the world and is regarded as a paradise for trekkers. Here are some trekking routes that the Everest Region offers: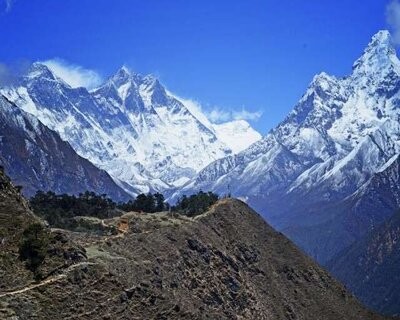 Everest Base Camp trek
The 14 days Everest Base Camp Trek is a popular trekking route in the Everest region. The route offers different itineraries depending on which travel agency you're going with. The journey starts from Lukla village and takes you through pine forests, crossing the Dudh Koshi River on the Hillary Suspension Bridge. The journey passes through charming Sherpa villages, ancient monasteries, and dense rhododendron forests, showcasing the breathtaking landscapes of the Himalayas. Kala Patthar, at an elevation of 5550 m, is the highest point on the trek.
Reference:
Everest Three High Passes Trek
The Everest Three High Passes Trek is another famous and challenging trekking route in the Everest region. This trek takes you across three high mountain passes, including Kongma La Pass, Cho La Pass, and Renjo La Pass. Starting from the journey, Lukla, your highest point will be Kala Patthar, also Groekshep. It's an amazing journey that rewards you with awe-inspiring views that you won't regret.
Langtang Region
The Langtang region, which is also known as the "Valley of Glaciers," is a heaven for trekkers. It provides wonderful alpine surroundings, lush forests, and an opportunity to immerse yourself in the rich traditions of the Tamang people. Here are some famous routes that provide Langtang Region:

Langtang Valley Trek
The Langtang Valley Trek is a combination of natural beauty and cultural immersion. You'll travel through beautiful forests, see stunning glacier lakes, and be enchanted by the warm hospitality of the Tamang people. The journey starts in Syabrubesi, and the maximum altitude you'll reach will be 5000m at Tserko Ri.
Reference: Best Time To Visit Langtang Valley
Tamang Heritage Trek
The Tamang Heritage Trek in the Langtang region is a culturally amazing experience. It gives you the opportunity to learn about the different Tamang cultures and traditions while trekking through beautiful villages. It is a must-visit trekking route because of the trek's uniqueness and the incredible views. The trek starts through Sybrubesi, and Tatopani is your last destination for this trek.
Annapurna Region
The Annapurna region is the second most famous trekking region after the Everest region. It is a famous trekking destination among trekkers because of its diverse landscapes, lush forests, terraced fields, and the warm hospitality of the Gurung and Magar communities. the region provides the following trekking routes:

Mardi Himal Trek
The Mardi Himal Trek is a relatively new addition to Nepal's trekking scene, but it has become popular nowadays. This trek provides stunning views of the Annapurna and Machapuchare (fishtail) mountains. The route takes you through rhododendron forests, terraced fields, and beautiful Gurung villages. The journey starts from Kanda, and the highest point you'll reach is Mardi Himal Base Camp at an elevation of 4500m.
Annapurna Base Camp Trek
Trekking to the Annapurna Base Camp route is a memorable experience. Annapurna's camp trek is not only about trekking, instead, it is about connecting you with nature, culture, and the beautiful scenery of the Himalayas. You will be rewarded with views of Annapurna Mountain. The base camp, surrounded by magnificent peaks, offers peace and excitement. The journey starts from Pokhara to Gandruk, and the final destination will be Annapurna base camp.
Should You Go to Manaslu Circuit Trek or Upper Mustang Trek?
The Manaslu Circuit and the Upper Mustang Trek are both distinct. Talking about where to go: Manaslu Circuit Trek or Upper Mustang Trek as a beginner, I recommend you choose the Upper Mustang Trek as a beginner, as most experienced trekkers go to Manaslu, so you might get problems while trekking for the first time.
Manaslu Circuit Trek
The Manaslu Circuit Trek is a challenging and rewarding journey that takes you to the world's 8th-highest mountain, Mount Manaslu. Starting from Soti Khola, the route goes along the Budhi Gandaki River, passing through villages, forests, and waterfalls. On the way, you will see beautiful snow-covered mountains and experience the special Tibetan-inspired culture of the region. The route goes through different types of land, from beautiful green valleys to empty high-altitude areas. The panoramic views of the Himalayan peaks are amazing and eye-fresh.
The trek is challenging due to its high altitudes, as the highest point of Larkya La Pass is at 5,160 meters. Acclimatization is essential to avoid altitude sickness, and physical fitness and endurance are required due to the steep and rocky terrain. The remoteness of the region also means limited teahouses and basic facilities.
Upper Mustang trek
The Upper Mustang Trek is a unique journey through the once-forbidden kingdom of Mustang, which was opened to trekkers in 1992. The route takes you through the Kali Gandaki River, passing through arid landscapes and colorful rock formations. During the trek, you'll see the cultural and historical belongings of the region, including the medieval walled city of Lo Manthang and stunning views of the Annapurna and Dhaulagiri mountains.
However, the trek includes challenges, including its restricted area, high altitudes, high entrance fees, and the need for proper acclimatization and physical fitness. The trek might also be difficult due to the dry environment and strong storms.
However, it is your choice either to trek on the Manaslu Circuit or Upper Mustang. If you want challenges, choose the Manaslu Circuit Trek as it offers a challenging trek with diverse landscapes and Himalayan peaks. If you want to explore Tibetan culture and ancient historical sites, choose Upper Mustang Trek.
Why Should You Hire a Guide to This Trek
Not every map will be right, sometimes you might get lost due to the wrong map so if you are a beginner it will be much better for you to hire a guide.
If you go on a trek through a travel agency and along with a guide the accommodation will be cheaper than if you go by yourself.
Guides are familiar with Nepal's different landscapes, which will help in your safe trek.
Guides are trained to handle emergencies, assess weather conditions, and ensure your safety.
Guides recognize and manage altitude sickness symptoms, which is one of the important parts of high-altitude regions.

Some Difficulties While Trekking in Nepal:
No trekking route is complete without any difficulties and challenges; it is a different thing that some trekking routes have less difficult routes and some have a bit of difficulty. Here are some of the common difficulties while trekking in Nepal:
Altitude Sickness:
Altitude sickness is the most common difficulty that is faced by many trekkers while trekking in Nepal. Symptoms including headaches, nausea, and fatigue are seen among trekkers at high altitudes.
Unpredictable Weather:
At high altitudes, weather is unpredictable; it can be a clear sky now, and after 5 minutes, there may be windstorms too. So keep updated with the weather before trekking at high altitudes.
Rugged Terrain:
Trekking in Nepal often involves rugged, steep, and narrow paths, which can be physically demanding. Many trails require river crossings, which can be challenging during heavy rainfall.
Limited Facilities:
On your trekking journey, you will stay in a remote village lodging where accommodations are basic, with limited amenities like hot showers and electricity. Food options may be limited, and you have to adjust to simple, local dishes.
Cultural and Language Barriers:
Nepal has many different ethnic groups and various cultures. Each group has its own language and way of life. Talking to people from rural areas can be difficult because most of them don't speak English. Additionally, the elderly there might not even speak the national language, Nepali. Instead, they speak their own language based on their social group.
Trekking in Nepal provides unmatched experiences in the heart of the Himalayas despite its difficulties. Staying well-informed and prepared will help you overcome these challenges and make the experience unforgettable.
What is the Equipment You Need To Carry Before Trekking in Nepal?
For a safe and enjoyable trek packing the right and useful equipment is important before starting your trekking journey in Nepal.
It's essential to have a comfortable trekking boot that offers good ankle support, as a trekking boot is one of the most important pieces of equipment. Make sure to carry moisture-wicking, warm, and comfortable socks to prevent blisters. Regarding your clothing for the trail, dressing in layers is important to adapt to changing temperatures. This includes wearing a moisture-wicking base layer, insulation, and a waterproof shell. Lightweight and quick-drying trekking pants are necessary for the trail and for your comfort. Choose a durable and comfortable bag with sufficient capacity for your necessities.
Your back contains all of your items. Pack a high-quality sleeping bag that suits the season and region of your trek. To ensure restful nights, a comfortable sleeping pad is essential, as it provides insulation and a good night's sleep. Your safety is also the most important part, so pack a well-stocked first aid kit, including items for treating minor injuries. Don't forget the small things that matter, like water purification tablets or a filter to ensure safe drinking water. A headlamp or flashlight is essential for visibility during early morning or nighttime treks.
FAQs:
Q: Is trekking in Nepal safe for beginners?
A: Trekking in Nepal is safe for beginners if you choose the right route, acclimatize properly, choose the right travel agency, have proper knowledge, and have the necessary equipment and guidance.
Q: Do I need a guide for a beginner's trek in Nepal?
A: For beginners, it is recommended to have a guide. As a beginner, you'll not have the proper knowledge and might have difficulties. Hiring a guide will enhance your experience, provide assistance, and help you immerse yourself in the culture.
Q: Can beginners trek Nepal?
A: Nepal has a variety of trekking routes that can be done by both beginner and experienced trekkers. A beginner with good knowledge and a general level of fitness can start a trek in Nepal.